Advanced Open Water Diver (PADI) / Advanced Adventure Diver (SSI)
This certification is required almost everywhere to be able to dive deeper than 18 metres. It also allows you to learn some important skills beyond the basic diving certification and find out where your interests and talents lie.
This 2-3 day course allows you to gain more experience under the guidance and supervision of an instructor. The only requirement is to complete 5 adventure dives with the associated theory. You can choose three modules that interest you from the wide range on offer.  Two others are compulsory.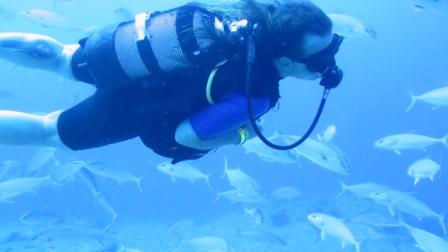 The course includes:
Short theory lessons for each of the adventure dives.
2 compulsory modules: Deep diving (up to 30 metres) and navigation.
3 elective dives, e.g. fine-tuning buoyancy, night diving, photography, fish identification, wreck diving, search and recovery... Talk to our instructors about what interests you!
First Aid / React Right
This practical course is not only recommended for divers, but teaches the basics of first aid with regard to situations that could also occur in everyday life.
Here, the first steps to help are learned and taught in small, easy to understand lessons as well as with the help of videos and the mannequin. Starting with what to do if someone is not feeling well to the approach of fainting and non-breathing victims. In the course, attention is also paid to ensuring that the rescuer is as safe as possible.
Duration after independent learning: approx. 8 hours
*****
Rescue diver
To be a rescue diver means to learn to support another diver and help them to overcome problems. You will be trained to recognise problems early (even before the diver knows they have them) and to take steps to avoid them.
Practical scenarios are used to work through everything from cramp and panic to missing divers and casualty recovery. This course will enable you to avoid mishaps in the best possible way. It will give you the knowledge that will help you gain the confidence you need to deal with a difficult situation.
The course includes:
10 theory lessons
10 practice scenarios in shallow water
Creation of a rescue plan
Open water scenarios to apply what has been learned in the presence of the instructor.
Duration approx. 4-5 days
*****
Nitrox Diver
Since birth we humans have been breathing Nitrox (Nitrogen = nitrogen and Oxygen = oxygen). But only a few know the additional safety that this oxygen enriched gas mixture brings to diving.
Many think of Nitrox as technical diving (Tec-diving)... far from it!
Nitrox diving minimises the nitrogen with supplemental oxygen, so we have less saturation of nitrogen during and after the dive.
Course duration 1 ½ days
2 theory lessons
2 open water dives
Prerequisite: Diving licence min. Open Water or equivalent
*****
Various Speciality Courses
We offer various speciality courses. These include specialtiy courses in deep and night diving,
fine-tuning of buoyancy, photography, fish identification and some more. Just ask!